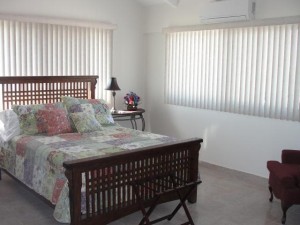 Let the morning sun in when you stay in this room, named after Ecuador's popular flower, featuring a queen sized bed with lightweight quilt, luxurious sheets and fluffy pillows perfect to keep you comfortable along with a private bathroom with shower.
There is a semi private balcony with views of the pool, and if you are an early riser you will catch the sunrise. You will also have a beautiful view of the Ecuadorian country side, in which certain times of the year it is possible to see 100's of herons nesting in the distant trees.
This room is temperature controlled with its own air conditioning unit. Relax on the balcony overlooking the swimming pool in the back yard.
The Rose Room sleeps two adults comfortably on a Memory Foam mattress brought from the U.S.