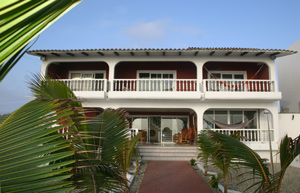 Punta Carnero is a quiet holiday destination on the Ecuadorian Coast near Salinas. The average temperature of 82 degrees Farenheit/28 degrees Celsius make it a popular destination for those seeking awesome waves for surfing and boogie boarding and a more laid back atmosphere.
Las Palmas Del Mar is located on a beautiful beach in Punta Carnero, Ecuador. The crashing waves and long stretch of sandy beach makes for the perfect tropical getaway.
The palm-lined walkway invites you to visit, while the gorgeous veranda welcomes you to sit back and enjoy the scenery.